Reflections Search Contest
The ART can't start without an Annual Theme, and we need your help finding the next Reflections Theme!
Thank you to all the students who participated in the annual Reflections Theme Search contest. All submissions will be reviewed by CAPTA's Reflections Committee, who will forward five themes to National PTA for consideration. From the nationwide search, one exceptional theme will be selected to inspire creativity in Reflections Program participants. The theme will be announced by National PTA in June 2020 and The student who submits the winning entry will receive $100.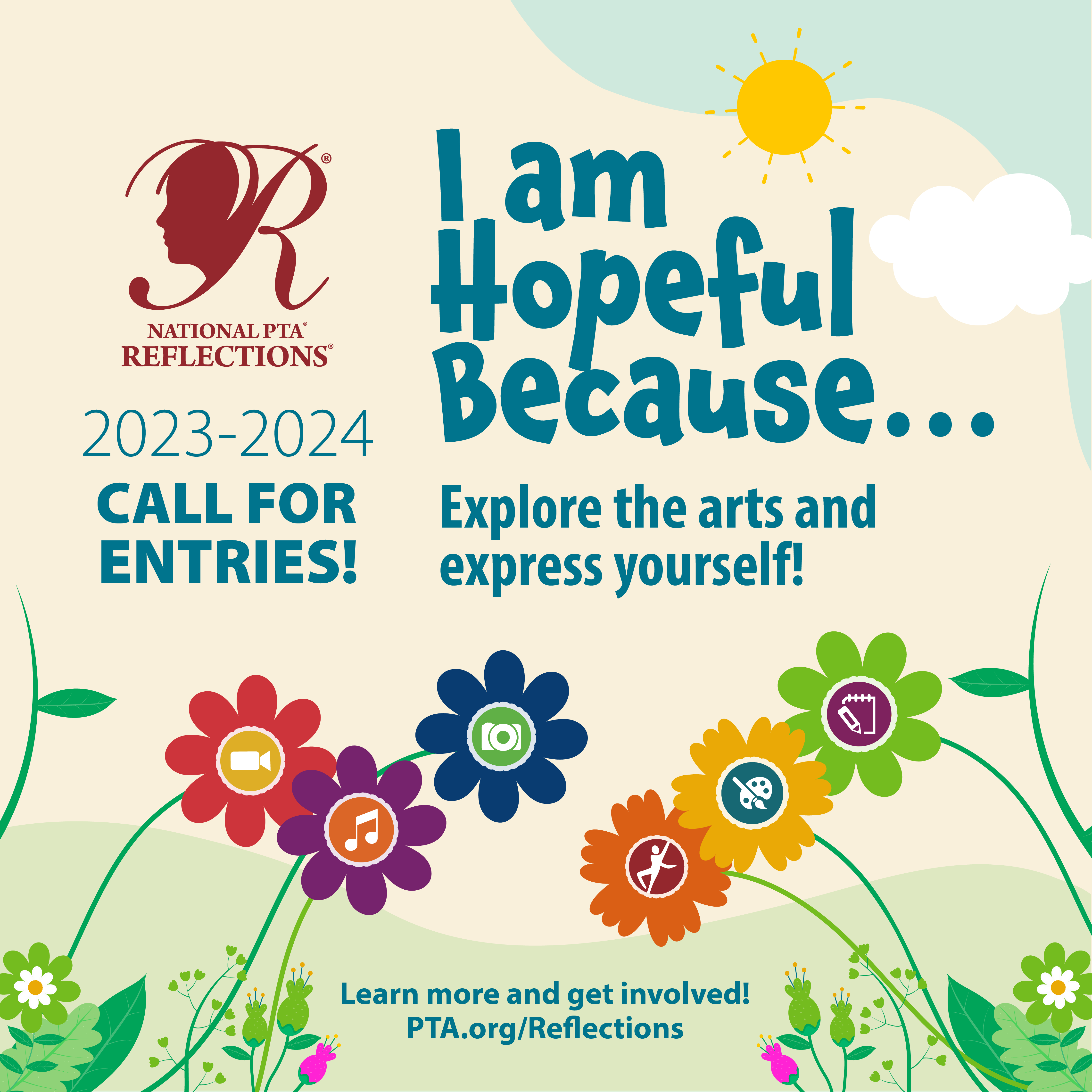 The 2022-2023 theme is "I am Hopeful Because..."
The 2025-2026 theme search will be open between September 1, 2023 and 5:00 pm, November 1, 2023. 
Sign up for the California PTA newsletter to be notified as soon as the contest opens.
Past Reflections Themes
Reflections: Children and Youth, Mirror Their World (1969-70)
Reflections: Children and Youth Look to Tomorrow (1970-71)
Reflections: America, The Beautiful, The Ugly (1971-72)
Reflections: This is Our Country (1972-73)
From Sea to Shining Sea (1973-74)
Our Heritage – Our Hopes (1974-75)
Spirit of '76 – Miracle of America (1975-1976)
What the World Needs Now (1976-77)
Love Is… (1977-78)
Look Out Your Window (1978-79)
Behind the Gates of Tomorrow (1979-80)
What Family Means to Me (1980-81)
What Makes Me Smile (1981-82)
Life in These United States (1982-83)
I Have a Dream (1983-84)
What Sparks My Imagination (1984-85)
From Liberty's View (1985-86)
In Celebration: A Past to Remember, A Future to Mold (1986-87)
Wonders of the World (1987-88)
Proud Experiences (1988-89)
Where Does the Sky End? (1989-90)
If I Had a Wish (1990-91)
Exploring New Beginnings (1991-92)
Imagine That (1992-93)
If I Could Give the World a Gift (1993-94)
Dare to Discover (1994-95)
Just Open Your Eyes and See (1995-96)
It Could Happen (1996-97)
Wouldn't It Be Great If (1997-98)
Suddenly you turn around and … (1998-99)
Anything is possible … (1999-2000)
It would be really strange if … (2000-01)
I hold in my hand … (2001-02)
Signs of Courage (2002-03)
I am really happy when … (2003-04)
A Different Kind of Hero (2004-05)
I Wonder Why … (2005-06)
My Favorite Place (2006-07)
I Can Make a Difference by … (2007-08)
Wow! (2008-09)
Beauty Is … (2009-10)
Together We Can (2010-11)
Diversity means … (2011-12)
The Magic of a Moment … (2012-13)
Believe, Dream, Inspire (2013-14)
The world would be a better place if … (2014-15)
Let your imagination fly (2015-16)
What is Your Story? (2016-17)
Within Reach (2017-18)
Heroes Around Me (2018-19)
Look Within (2019-20)
I Matter Because (2020-21)
I Will Change the World By…  (2021-2022)
Show Your Voice!  (2022-2023)
I Am Hopeful Because…  (2023-2024)